Multiplayer is the game mode in CSR Racing where you can race real people. It is unlocked when you beat Professor Dee from the Stallion Riders, the Tier 3 crew. Opponents are chosen based on your car rating and current Respect Points. The entry fee to get matched with six opponents depends on the rating of your car.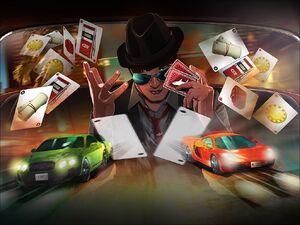 If you win more than 3 races in a row in multiplayer, you can get up to three RP cards from
Frankie the Fin
. These cards can be redeemed for randomly chosen prizes from the following:
pieces of PRO cars,
gold,
cash,
gas pips,
a full gas refill,
next upgrade free,
temporary respect point bonus percentages,
a crew member for the next 5 minutes.
Season Prizes Edit
Every "season" in multiplayer (usually around 2 weeks in length, but can vary), there is a prize car to be won. You must be ranked in the top 3% in order to win the car. If you rank in the top 1% then you will get a Pro version of the car with special livery.
Banking even a single win in a multiplayer season will win you a minimum of 2 gold coins. A maximum of 20 Gold Coins and the prize car for that season.
Top 1%: Pro version of season car with special livery.
Top 2-3%: Standard version of season car.
Top 4-10%: win 15 Gold.
Top 11-20%: win 10 Gold.
Top 21-100%: win 2 Gold.